Oddschecker insights: The story of the World Cup so far
Oddschecker's commercial director Guy Harding pores over the betting data from the first fortnight of the 2018 World Cup

As we approach the business end of the tournament, Oddschecker thought it would be a good idea to look back at what has been a fantastic fortnight of football.
South Korea's win over Germany was the biggest priced winner at a World Cup (ever?) certainly since I can remember, eclipsing Switzerland's (16/1) upset of Spain in 2010.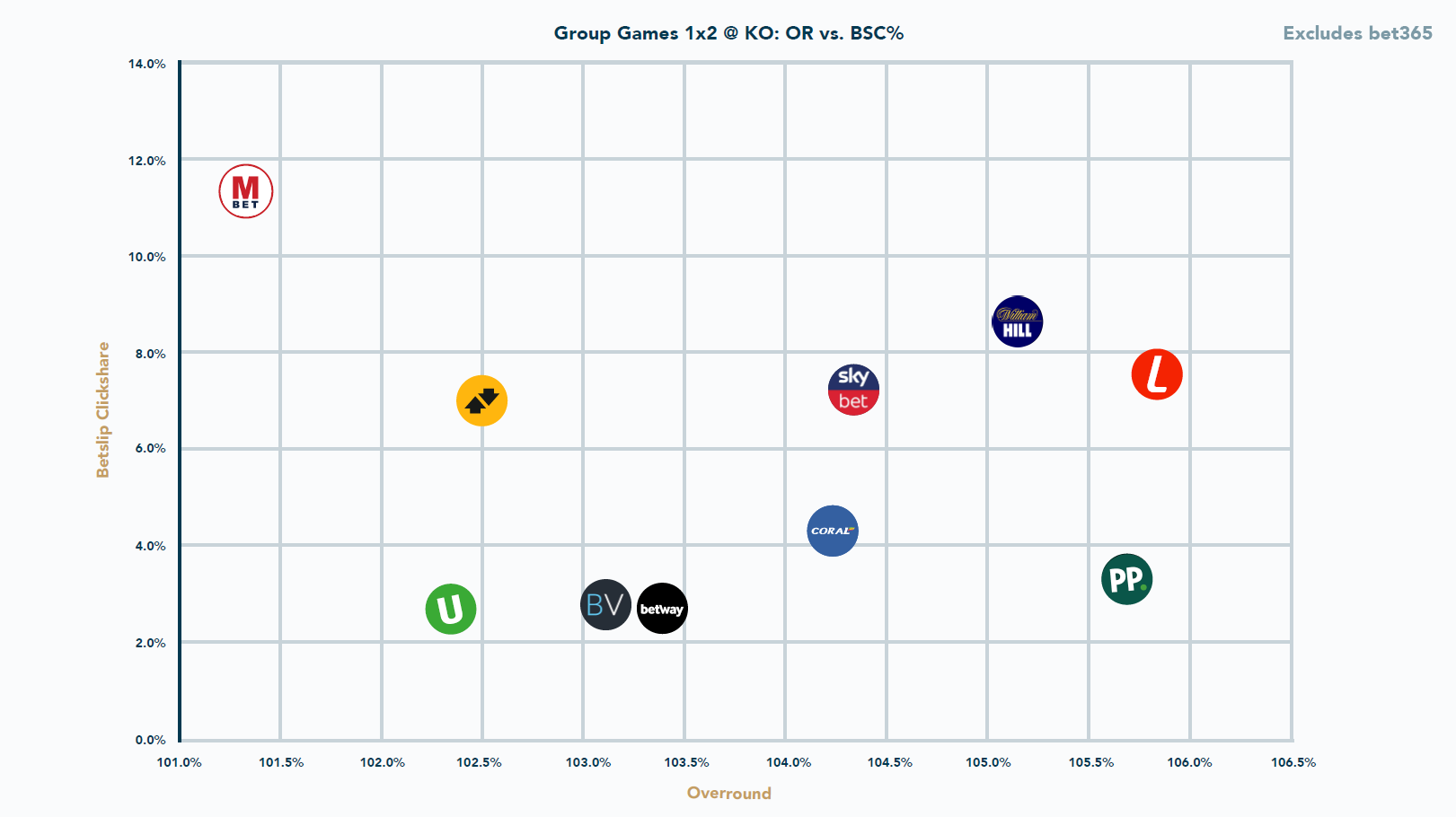 South Korea were 20/1 with Betfair Sportsbook at Kick off to beat Germany. Incidentally, of the leading UK bookies Betfair have offered the lowest overrounds (1×2) on average on pre-match match odds markets since the start of the tournament.
That said, a mention must be given to Marathonbet who have continued their fine PL 17/18 form and are the tightest priced 1×2 sportsbook of all of Oddschecker's partners. This is illustrated on the graph below which shows price vs. clicks performance for the top 10 sportsbooks on Oddschecker. The graph excludes bet365 – who with a clickshare of 28% would render the message from the rest of the graph unintelligible. For completeness, bet365's tournament-to-date OR is 102.7%.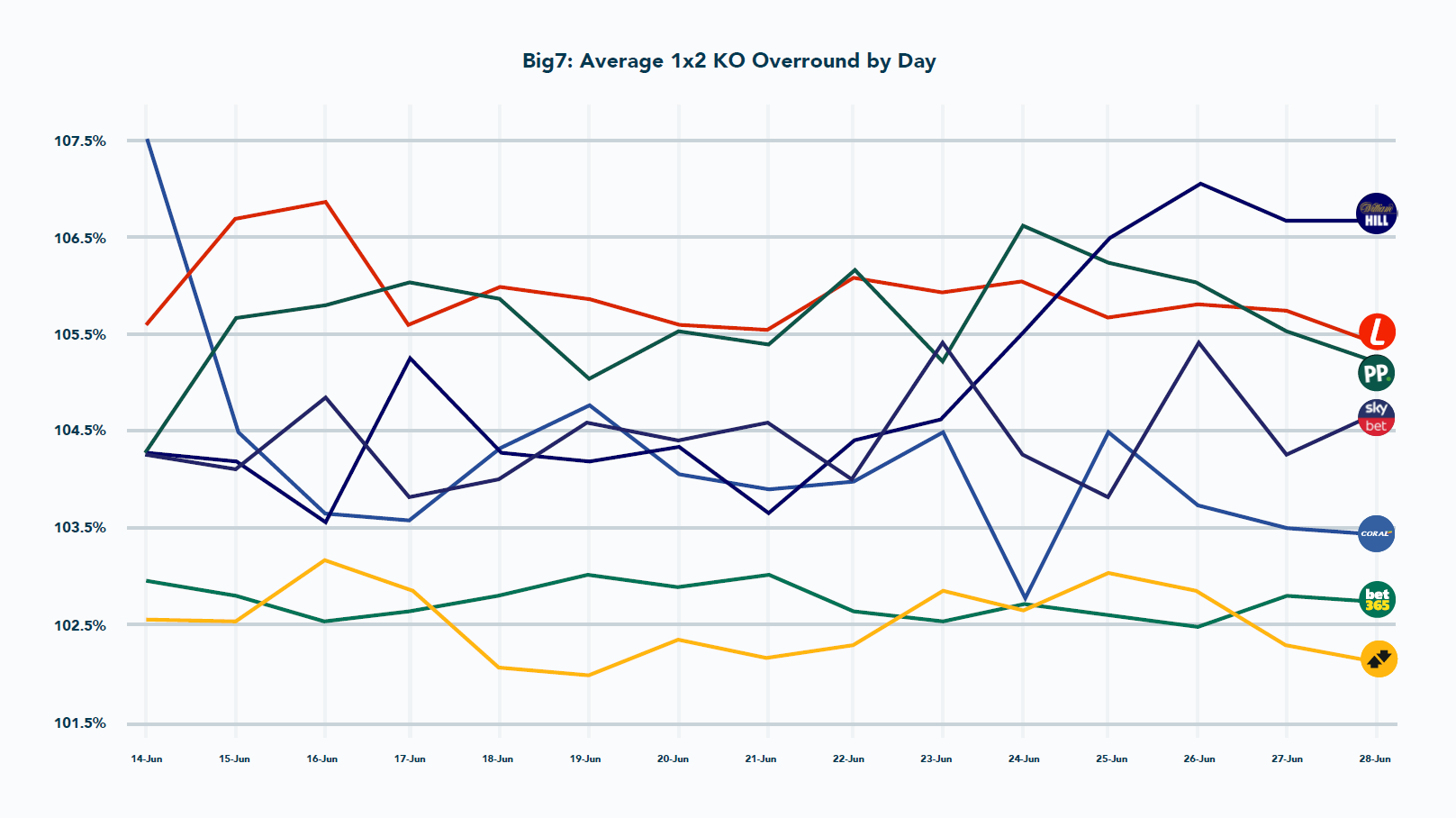 Across the board operators seem to be pricing the World Cup more aggressively than they did during the Premier League with a tournament-to-date 1×2 OR of 103.7% (18 bps tighter than PL 17/18 avg).
Despite there being just one goalless draw (vs. 5+ in the last three WC group stages) bookies have enjoyed a relatively favourable tournament (thanks Germany); with 58% of games being won by the favourite, but just 15% of games ending in a draw vs. 26% in last year's Premier League!
The incidence of penalties seems to be costing bookies dearly though. VAR has proved an expensive development. One would normally expect a penalty incidence rate of 0.2, i.e. one penalty awarded every five games, but what we have seen in Russia so far is an incidence rate of 0.5 (Half of all games have had a penalty on average). What started as a 3/1 shot pre-tournament is now regularly priced nearer 6/4.
Goal count comes in at 2.54 per game; 4.9% below World Cup 2014 but still more than sufficient to keep punters engaged.
Bookies will be hoping England progress through the tournament, but are likely to be reluctant to cheer us all the way home. After all, England have been the second most popular bet on Oddschecker and without doubt represent the biggest liability for bookies up and down the country.
So far the most popular new customer offer of the tournament has been from Smarkets, who offered 'Up To £70 Risk-Free On Your Team At The World Cup' on 16th June. From an existing customer offer perspective, William Hill's '£5 free bet every time your team wins' performed very strongly on the day before the tournament.