Promoted feature from Facebook: 2020 — the great media reset
Laura Scanlan and Ruth Purcell of Facebook assess the shifts seen in consumer behaviour throughout 2020
This year, the coronavirus pandemic has brought about unfathomable change and accelerated existing trends, at almost warp-like speeds. We've seen how consumer behaviour pivoted at a startling pace when default choices and preferences were no longer available. We've also witnessed a huge transition to digital and an accelerated use of marketing AI-led products.
As such, gambling businesses must adapt to consumer behaviour and show their agility in addressing consumers where they now spend their time and not only allow them to find their products but enable their products to be discovered. Below we discuss some of the key trends that have emerged throughout 2020.
Acceleration of digitalisation
From January 2020 e-commerce grew at the same pace in five months as it did in the previous 10 years![1]*1 We are used to millennials driving the shift to mobile but interestingly, the growth of mobile and e-commerce has been fuelled by over 40s. For example, the fact that 83% of gen X (41-55) and boomers (56-76) bought products online when retail stores had re-opened reflect that this shift has continued post lockdown[2].
In the world of gambling, although shelter-in-place measures did not drive an influx of new customers, there was a rise of +25% on online slots and +38% on poker participation, according to YouGov data[3].
Meanwhile, closure of retail saw, as Flutter CFO Jonathan Hill described in August, "an uptick in customers who look very much like retail customers who came online to play in the period". These trends, coupled with the migration of older audiences online, highlights a real opportunity for diversification of audiences online and across products within gambling.
As well as recognising that audiences are moving online, you must also be cognisant of the unified retail and digital customer journey. The re-emergence of QR codes during shelter-in-place measures is one such manifestation of this. With this convergence trend expected to continue, it's no longer advantageous to split the customer journey between offline and online, but to seize the opportunities the growing omni-channel nature of gambling consumption is opening for operators.
The virtual community is social
With 40% of global sports fans already watching sports coverage and highlights online, sport entertainment has already moved beyond the live event.
Fans are continually engaging with long and short snackable media bites across platforms and devices, 24/7. With the new era of mobile and content creation (often with a focus on fans and athletes themselves as the media), shorter highlights and behind-the-scenes content elongates the enjoyment of sport outside the live event window.
Teams, players, fans and brands are facilitating social virtual experiences built around a common interest and this becomes even more important where there may not be a chance to rally together in person like fans once could. This leaves a major opportunity for gambling operators to reach a highly-engaged audience at scale on social platforms for major sporting moments like the Euros.
Harvesting virtual communities is important not only for sports but also within gaming. We have seen one example of this in the correlation between lockdown and the significant increase in new games set up in PokerStars Home Games, a feature which allows users to create private poker clubs with family and friends for a stimulating, challenging and socially engaging source of entertainment.
Rethink your marketing structure
2020 and 2021 will also be significant as a period when the impact of increased gambling and advertising regulation was felt, alongside an ongoing global pandemic. As key markets show increased cost pressures, there's been a marked increase in investment across a wide variety of European and global markets to mitigate the singular market focus risk.
Online video has grown exponentially leaving TV sports broadcast in a state of disruption. Covid-19 has accelerated this further and favoured larger digital media channels and platforms. Digital commerce expansion and paid TV disruption is reshaping advertising and marketing, requiring agile marketing teams with deep media channel knowledge to navigate multiple markets and a new polarised media landscape.
A new balance between central and local marketing teams may be required. In today's larger media channels there's often a singular best practice for creative formats, ad campaign execution, attribution and pixel and signal alignment applicable across all markets, to enable scale and to drive efficiencies.
When we look to digital natives and social media innovators such as mobile gaming, we repeatedly see teams the same size of a typical gambling marketing team, executing campaigns in up to 200 countries with high levels of investment. Scalable cross-border activities executed centrally can include performance, tech stacks, measurement and attribution and creative production. This allows local teams or country managers to focus on their core role of building brand and market share layering on local media mix and consumer preferences for major events and campaigns.
Automation
AI technologies remain at the forefront of digital transformation, particularly in CRM and marketing.
As media investment follows consumer behaviour online, we've seen a move towards automation in the forms of:
Shift from behavioural targeting to using product signals to discover new in-market customers
Use of automation and machine learning to increase efficiency in the form of creative deployment, audience management and campaign management
Performance marketing leveraging automation in campaigns to deliver the right message to the right person
Throughout the coronavirus pandemic, AI has been leveraged more than ever across the marketing ecosystem. With customer service under strain, companies rely on messaging and bots to deal with volume. Meanwhile, performance marketers are leveraging automation to reduce campaign management resources and increase execution efficiencies.
Use of AI in marketing is beginning to harness the power of predictability bringing together the powers of social, mobile and commerce in an engineered serendipity. This emerging trend of algorithmic or discovery commerce should be monitored closely.
As operators and marketers look ahead to 2021, due consideration should be given to what the past 12 months has taught us as an industry and how these trends will continue to accelerate based on our experience and the unknowns in the months and years ahead.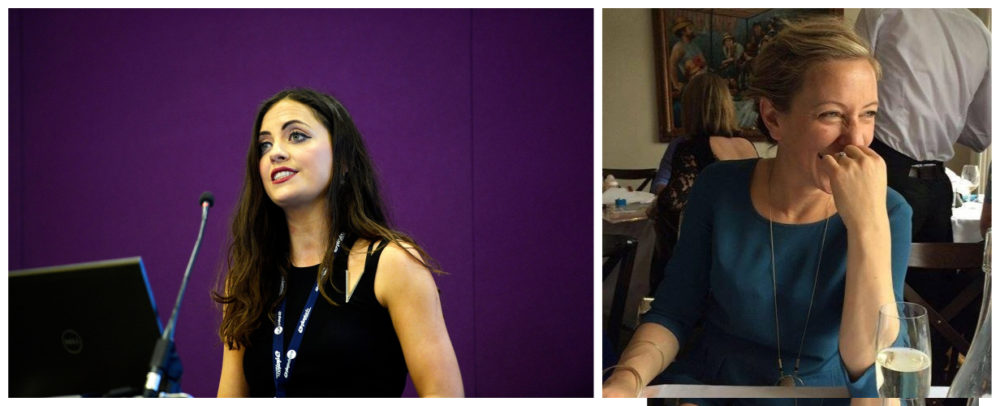 Laura Scanlan (pictured left) is a senior client partner working on Facebook's Real Money Gaming business for the last six years. With 15 years' marketing and media experience she is passionate about supporting the partners she works with to achieve their business objectives and elevating the marketing practices of the gambling industry.
Ruth Purcell (pictured right) is part of the Real Money Gaming team at Facebook where she advises leading operators across Europe on their Facebook brand and media strategy. She has 17 years' previous experience working as an operator in the gambling industry, including heading up marketing and brand, overseeing product development, responsible gaming, compliance and operations both in North America and Europe.
[1] Source: UK Office for National Statistics – Retail Sales Index – Internet Sales – May 2020
[2] Source: Global Web Index – Coronavirus Research -June 2020
[3] Source: UK Gambling Commission – YouGov's Covid-19 Tracker – July 2020