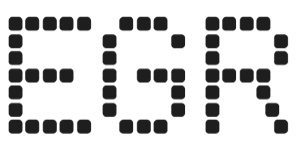 Conversion corner: Counting the costs of sports betting profitability
Chalkline CEO Daniel Kustelski looks at how operator acquisition costs during 2022 might point the way to potential profitability during the year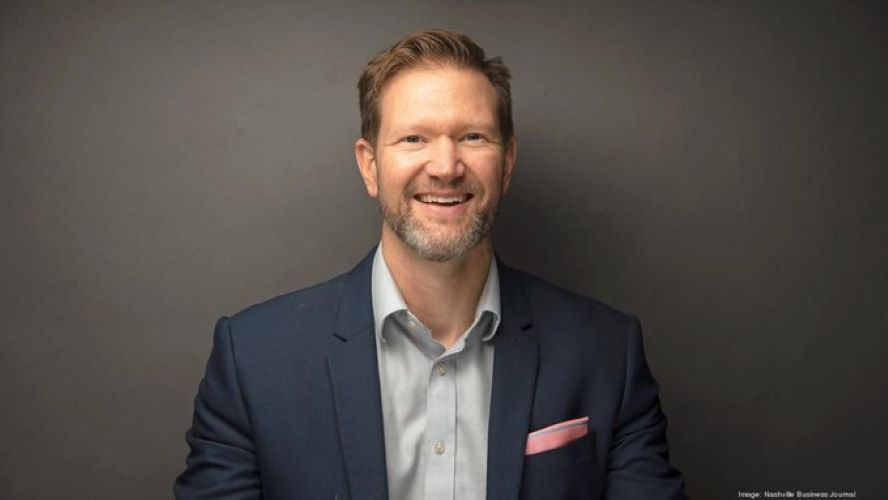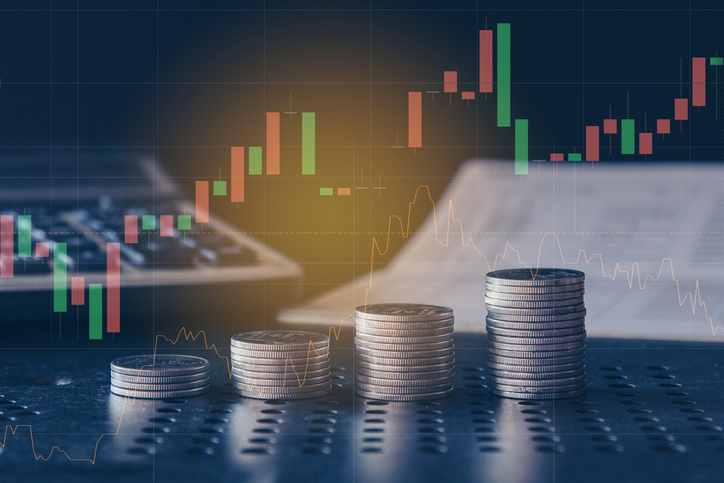 What a difference a year makes in the sports betting and igaming industry in the US. This year has been mooted as the potential year of profitability for many operators in the US, following up from suggestions that 2022 would be the 'growth' year for the sector.
While there are a few paths to investigate towards profitability for many operators, my focal point is again marketing costs and customer acquisition costs. With technology costs being the other big culprit for lack of profitability, the ability to acquire and retain those customers is both an art and science that separates the good operators that are being profitable from those that won't find the scale to profitability.
We will look at the public reports from operators, affiliates, and states to dig into the continued challenges for operators and demonstrate that the path to sustained profitability may not be as easy as simply cutting marketing and bonus spend.
Tribal and land-based casino success
I don't often lead with land-based casinos but there have been recent developments with tribal casinos achieving success within the online industry. One example is Desert Diamond in Arizona being ranked fourth in gross gambling revenue (GGR) for January 2023. Arizona has been live with online and retail sports betting for 12 months. This is by no means a trivial feat and an indication that operators can achieve a significant market share without heavy investments in marketing and operations.
I have always been a strong proponent for US land-based casinos mining their existing database of loyalty players for sports bettors. Having done the same a decade ago in Africa, I know there is so much opportunity as many of the casino loyalty players are passionate about local sports teams and would love to wager on local teams or players. Desert Diamond's digital team is a great demonstration for the rest of the tribal operators and entire casino industry of how to leverage their existing assets to build a sustainable online and sports betting business.
DraftKings acquisition cost analysis
DraftKings recently published its Q4 results as well as FY 2022 financial results. Of particular interest is the increase in monthly active users (MAUs) and the amount spent on marketing to achieve that growth. Here are some of the key indicators from these results:
• DraftKings increased its MAUs from two million to 2.6 million users.
• It spent $1.2bn on sales and marketing during 2022.
• A simple acquisition cost calculation provides us with a spend of approximately $2,000 per MAU.
• DraftKings earns approximately $860 gross profit per active user in 2022.
Unfortunately, those indicators don't account for the line item 'cost of revenue' that increased at a similar rate as revenue. Cost of revenue typically includes the bonuses operators provide to players to acquire, re-acquire, and retain MAUs. Fortunately, DraftKings is spending very little on igaming customer acquisition, according to recent comments made by CEO Jason Robins while attending the JP Morgan Gaming, Lodging, Restaurant and Leisure Management Access Forum 2023 in Las Vegas this March.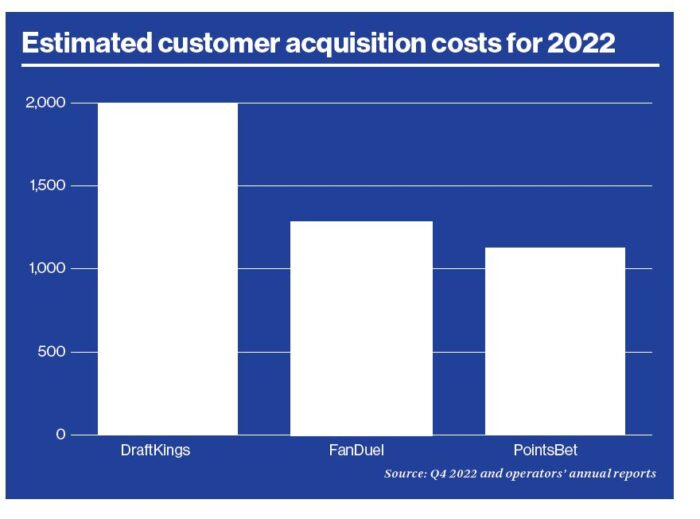 FanDuel acquisition cost analysis
FanDuel also provided its preliminary annual results within Flutter's wider 2022 numbers. Again, we will analyze its MAUs and marketing spend, but because FanDuel has a few more verticals than DraftKings, it won't be a complete comparison. Here are the key indicators from these results:
• FanDuel increased its MAUs from 1.56 million to 2.32 million.
• The operator spent $1.2bn in marketing and sales in 2022.
• Simple acquisition cost calculations provide us with approximately $1,600 per MAU.
• FanDuel is earning more than $1,000 per active in gross profit in 2022.
The one caveat to FanDuel's marketing spend is that the operator annotates 80% of the spend relates to customer acquisition and the other 20% for customer retention. If that is the case, FanDuel's acquisition costs adjust slightly to $1,400 per monthly active user.
BetMGM acquisition cost analysis
BetMGM doesn't have as many public data points from 2022 but there are a couple from its annual report that address the operator's omni-channel strategy, giving it a strategic advantage over its top two competitors.
• 3x-6x the revenue from omni-channel customers in states with both online and retail versus a single channel.
• 48% of new MGM Rewards sign-ups in 2022 were BetMGM originated.
Using the MGM Rewards program as a source of new customers should severely reduce customer acquisition costs. Mining its existing databases are always more efficient than trying to acquire net new customers for the BetMGM brand.
PointsBet acquisition cost analysis
PointsBet had 292,000 active players in 2022 and acquired over 80,000 players through marketing efforts. The operator spent $90m on marketing, which is declining from previous years, but customer acquisition costs are still over $1,000.
My biggest concerns for PointsBet are that it measures yearly actives rather than monthly actives. This prevents direct comparisons of active players with most other gaming companies and inflates its 'active players' figure. When you combine that the company spent 33% of its GGR in the US on bonuses, plus close to 100% on marketing, it makes for a tough market for operators.
Interestingly, PointsBet recently restructured its partnership with NBC. The firm owed approximately $90m per year to NBC in the partnership deal signed in 2020 that was set to last five years. In January 2023, the operator extended the deal by two years which allowed PointsBet to reduce its payment to $58m. Clearly, it wasn't getting the number of new customers it anticipated through the deal and needed to reduce the payments.
A quick bit of math would indicate that the operator should at least be getting 90,000 customers per year from that relationship alone (at a $1,000 CPA) and I assume it isn't anywhere close to that. The restructuring will ease the payment to NBC, but it won't solve the root of the problem which is that the relationship simply isn't working for PointsBet.
A few more notable angles on acquisition
PENN Entertainment's results indicate it is making 40% of interactive revenue from the sale of skins in various states. That leaves approximately $130m in revenue in Q4 2022 from both betting and online gaming operations.
Caesars Digital lost close to $800m in 2022 and lost just under $600m during 2021. It had a large launch in New York but later saw that market share reduced after its initial push with a large player bonus. In a recent investor call, Caesars stated "we have a customer acquisition cost advantage tying into our database."
Bally's is currently restructuring considering its slow start. In March, its new CEO Robeson Reeves admitted the acquired Bet.Works business did not give Bally's the platform required to develop a competitive product in US online sports betting. Regardless of Bally's marketing spend, it simply doesn't have the product to retain the customers it does acquire.
While many of the operators are predicting profitability in 2023, it's still hard to acquire customers efficiently. Customer acquisition costs for operators are well into the thousands across the industry for last year. The big three have achieved a scale that sounds like it is sustainable, but that remains to be seen. The entire industry hasn't proven the model to achieve an efficient and sustainable customer acquisition strategy with a technology solution that provides a unique product wanted by many operators.