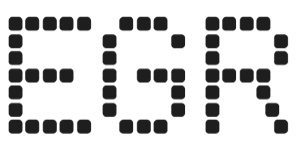 The BonusFinder Bonus Index: Who will offer the best experience?
BonusFinder presents the latest Bonus Index data on newly launched and upcoming states to reveal where in the US customers will benefit the most

With 36 states plus DC now allowing regulated sports betting, including the recently fast-tracked Kansas, and 60% of the adult US population residing in one of those jurisdictions, the market is certainly living up to expectations after just four years of legal activity.
Equally, new state-by-state activity is healthier than ever, with a further five, plus the Californian whale, planning to potentially go live later this or next year and in the midst of a regulatory and political battle as to which of two multi-million-dollar-funded 'Propositions' will triumph.
Crucially, this is a lucrative time to launch betting activity, with several major North American sports kicking off between now and the end of the year including the NFL. More than two-thirds of teams are in states with legalized sports betting, while initial geolocation data suggests that approved NFL betting attempts rose by more than 70% during the opening week's game. This will delight many licensed operators which, despite trimming welcome offers due to marketing cuts, high taxes, and tightening margins in comparison to 2021 — that saw the likes of Caesars offer up to $5,000 in rewards — have gone all-in in the hope that this will be their best betting year yet.
The big question, however, is which of the new and upcoming states' customers will benefit the most from these new launches, many of whom are aiming to 'out revenue' one another.
A closer look at BonusFinder's latest Bonus Index figures reveals that four of the five upcoming state launches are predicted to enter the top 10, with Maryland (earmarked for a February 2023 launch) expected to be the most favorable state for US consumers.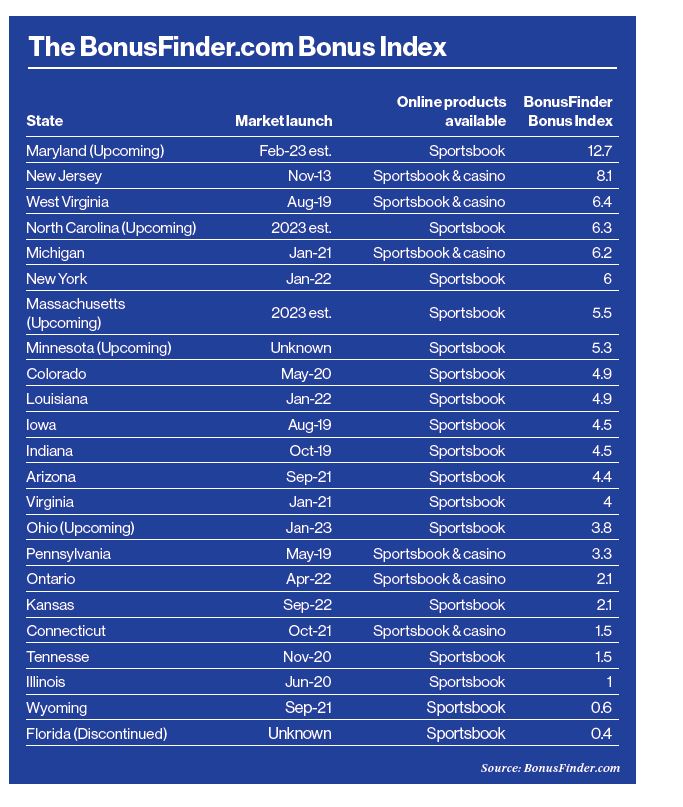 The Bonus Index is based on the total amount of welcome offers that are available in each state and the average amount of bonus available. The total amount of welcome offers available, alongside the number of licensed operators, greatly increases the score.
Maryland (NEW ENTRY – 1)
The state held a public hearing on September 9 and has a strong desire to launch online before or potentially prior to the Super Bowl. More importantly, there is the strong possibility of up to 60 licensees in the aptly named 'Free State' which will give its relatively small six million population a vast amount of choice in brands. Add to that its healthy retail sportsbook market, whose handle has grown consecutively for the last five months to $18.6m, and we expect both the market and the consumer experience to thrive.
North Carolina (NEW ENTRY – 4)
With a massive 10 million+ population, this southern state has high hopes of passing a bill in 2023 including betting on college sports, one of the biggest events of the year for resident fans. A previous bill ended in failure as this option was removed, but with increasing momentum and desire to get it over the line, we expect bettors to have a boon next year.
Massachusetts (NEW ENTRY – 7)
There is talk of Massachusetts launching statewide mobile betting before Maryland, however, despite its gaming commission (the MGC) approving key measures to keep the process moving forward on September 8, there has been no update on a launch for retail or online sports betting.
Progress was described as "slower than a turtle down the Maryland turnpike" by one recent regulatory podcast, but there is currently no temporary cap on the number of licensees and a low bar to entry of $1m. This may change as regulators tighten the rules but customers there could be offered one of the best betting state options in the country, and we expect it to climb the rankings next quarter.
Minnesota (NO CHANGE – 8)
Getting online sports betting legalized in the North Star State has long been an issue with 11 tribes running 19 casino properties, but despite being granted exclusivity earlier this year, a Senate addition of two racetracks saw a bill fade away — for the time being. The fact legislation got so close, and included mobile, bodes well for the future and, if signed and sealed, would pave the way for a top-10 betting state.
Ohio (NEW ENTRY – 15)
It may have a lower-than-expected entry in this quarter's Bonus Index but we think it will be positioned far higher once it launches, all being well on January 1, 2023 when several local sports teams, racinos, and casinos are licensed. Equally, this is why it sits outside the top 10 with a disappointing eight licensees so far approved from an initial 25, including NFL team the Cleveland Browns partnering with BallyBet and MLB team the Cincinnati Reds with newcomers Underdog.
Kansas (NEW ENTRY – 18)
While not an upcoming state, it is new to the Index and only soft launched at the beginning of September with six approved operators. All reports from the state and operators indicate a solid start, however the disappointingly small number of licensees, predicted to be up to 12 pre-regulation, has seen it fall down our Bonus Index rankings.
Despite its small population, we expect both a bright financial and consumer choice future for the state for several reasons. Kansans are avid sports fans and passionate about their 'Chiefs' who won the Super Bowl in 2019. The state launched the same week as the new NFL season and will feel the full benefit of betting between now and February 2023. Crucially, its central and 'border-city' location — surrounded by states that have yet to go live such as Missouri — will mean it will inevitably experience a mass influx of bettors, similar to New Jersey prior to New York's mobile wagering regulation. This will provide it with a huge boost compared to predicted numbers.
California
This state is the major outlier (not yet on our Index) with the industry's most expensive lobbying race and advertising war underway between Propositions 26 (coalition of tribes) and 27 (large operators), each side vying to outspend the other and budgets surpassing $400m. We're keeping everything crossed that a bill could pass next year, and if so, create a billion-dollar sports betting market with potentially more consumer choice than any state. Pessimists, however, would argue that with tribes, lobby groups, and unions taking sides things are getting messy very quickly, and, typically, when you have a public that can't distinguish the truth or the 'lies', the no vote ends up being the outcome.